Politics: Adam Brickley (pictured below), a part-time Seth Rogen impersonator, is apparently
responsible
for the nomination of Sarah Palin. His
profile
says he has an interest in "fighting socialism", which makes me wonder whether the word fighting is being used as an adjective or verb. Perhaps he enjoys the a certain subsection of socialism that also enjoys fighting. It would be like fight club, but for socialists only.
Thoughts on Dr. Pepper: It sucks.
On a slightly unrelated note: Go COLTS!!! YEAH!
You guys! I went to a dentist today and he was all, "You have a cavity." Of course, I didn't get it drilled because maybe he's just trying to take my money. Even if he isn't, what's the false positive rate on this type of thing? I don't want him to be removing parts of my teeth if there's a large chance he could be wrong.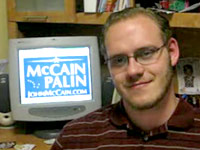 All you people look alike.

photo: slate